Ideas

The tribe update was awesome. (a little late but still the same) However, there are many things that could be done to improve the tribe experience, which I hope you (rezoner) are willing to implement sometime in the future.

First, I will like to start with a concept UI for a tribe hub that I made.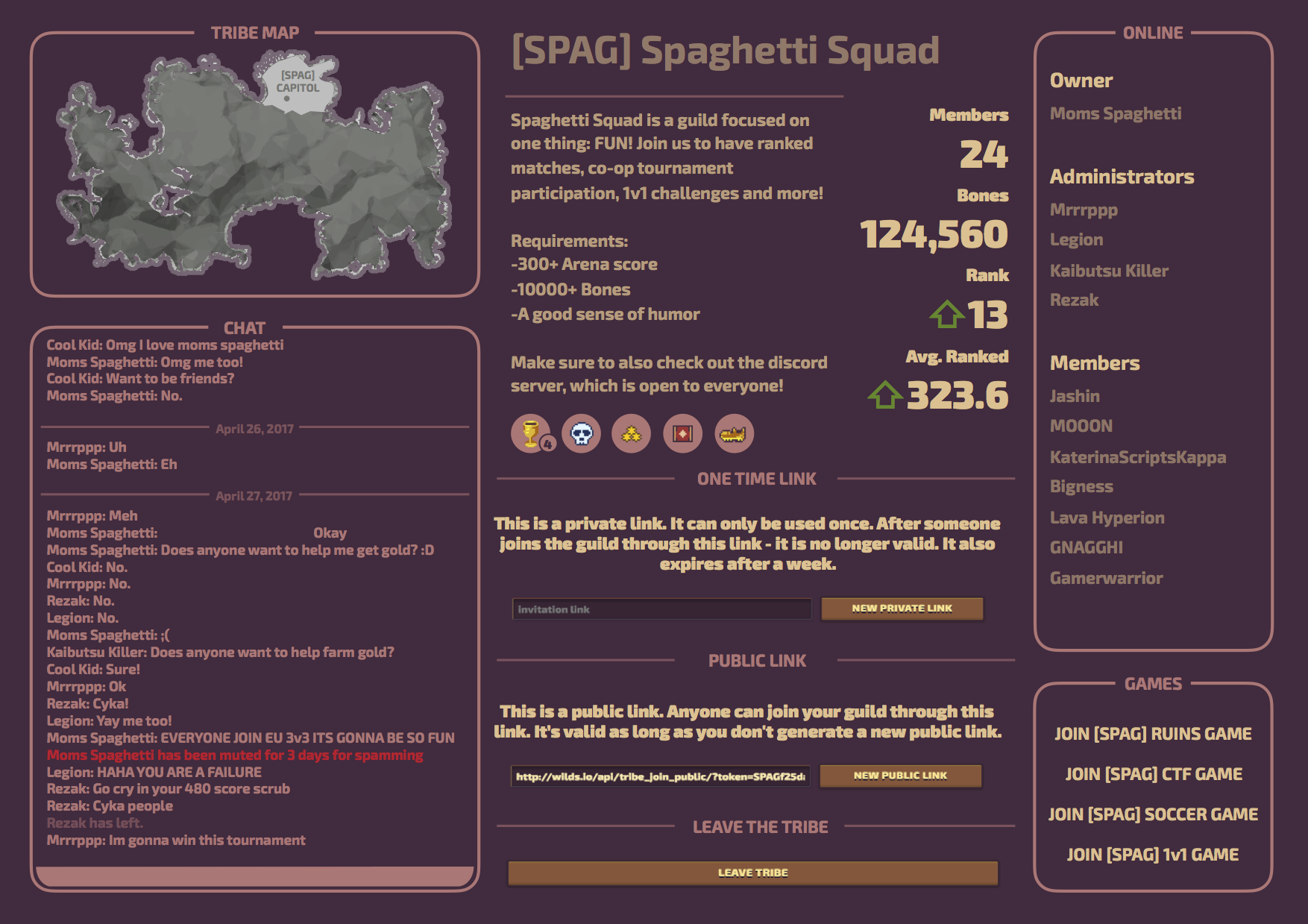 I know that this isn't exactly going with the style of the site or anything but something along the lines of this kind of UI for a tribe "hub" I think would be great.
The Contents
Obviously many of these ideas would be too much work, but I will explain them all anyway.
Mini Tribe Map:
I thought it would be nice to be able to see your tribe in relation to the rest of the map, without your view being obstructed by all the other capitols and such. I couldn't find how the tribe map works, but if somehow the game can save a image of the map when you log on and display that instead of draw it all over again on the screen I think that could work.

Tribe chat:
I know that this has been posted many times by many users but I would like to go more in depth. Many online game communities thrive because of the team-based activities that go on. Having a tribe chat will allow players to join tribes and participate fully in all activities without having a discord account, which is what most large tribes use right now. Having an in game chat would also mean it can be integrated with the actual game ver well. For example, a possible feature could be a "start game with @Moms Spaghetti" or a "stats" button which can let you show off all your sexy stats for all the chat to see. Having a tribe chat will give another incentive for players to do more activities IN wilds.io and allow them to perform things that are more "barbarian like". Im not sure where Im getting now I am starting to write this like my english essays, long boring and pointless. I will not move on to the next topic

Tribe Statistics/description
The tribe statistics will allow players to see at a glance what the tribe looks like compared to others. This will hopefully motivate people to contribute more and play more of the game. The statistics and description will go more towards the tribe browser, the next topic.
Tribe Browser
I got too lazy to make another UI design for a tribe browser, but here is an idea anyway. Slay.one has a great example, it shows the top 30 or so clans in a list from best to not as best. You can click to see the description and in this case also the main statistics of the tribe. If the tribe is public you can maybe join right there or if not apply to join the tribe. This will have so many more people involved with the tribe system, which can make the game so much more fun.
Scores
Scores would be used to measure how good the tribe is compared to others. The tribe browser can either be separated into several tabs representing different game modes so that tribes can specialize, or the score can be calculated as an average of a percentage or point based score including ALL game modes. This will give a general idea of how good the tribe is. I personally would rather have different tabs because I think it would be fun to have different tribes specializing in game modes. (Like "Barcelona" with only football player usernames and high soccer match scores or "Knights of valor" which focuses on only 1v1 and 3v3 arena scores)
Medals
Medals would essentially play the same role as the statistics, to encourage people to grind or fight more. Higher ranking and more exclusive guilds can try and aim for higher arena ranked averages by only inviting high ranked players or create an environment where ranked score grinding is important. Instead of being counted as a percentage of the top scores like it is in the individual player leaderboards, it should have preset ranks assigned to certain numbers of bones. This will encourage individual player bone grinding.
Links
The links tab would just be the same as it is in the admin tab. Something else can replace it if the person that is logged on is not an admin.
Status bar?
Im not sure how to word this but it can show players that are online on wilds. You might be able to send friend requests (which I saw in of the GUI spritesheets so maybe it can be implemented soon) or invite them to a battle, or start a message requests. Roles can also be important, also encouraging people to be active on wilds. "Owner", "Admin", and other roles can distinguish the active players from the inactive and also give something for players to shoot for.
Games tab
I thought of this as serving the same purpose as a "Invite your friends to wilds" link you can send to people. When you click to join the game, the same mechanics would appear as an invite link. The difference would be that the link would be activated when someone clicks on it, and a new game will be assigned to that link. More players can join all up until the last person leaves, which would be when the link shuts down and checks for more active games to switch to, so that one tribe doesn't get stuck in an empty ruins game forever. This can make playing with each other easier and also give yet another incentive to use the wilds platform (or whatever you call it) instead of other social platforms like discord.
Clarification:
The member list would still be there, I am thinking of this as another tab. Another recommendation: make the tribe button more clear. Perhaps give it its own big fat link close to the play button, so that more people know its a tribe button.
Although I really doubt you read this far without skipping, thanks for reading.
-Spaghetti