Ideas

Hello, I wanted to introduce you to an idea that may not be the most important thing that can be added to the game, but it could certainly have a positive impact on our community. I'm talked about emotes between players but they would be different from those we have in the game.
The first and most important difference will be that the proper emotion will only be triggered when the player uses the same emotion near another player who uses the same emotion. Also these emotions would have special animations that are not present for sound emotes.

But how it exactly look? Let me show you: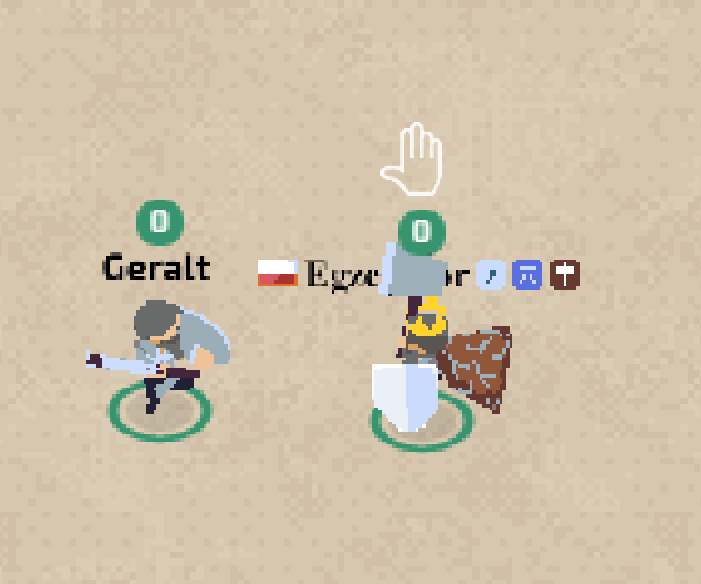 It's a simple example how player can give sign to other, he want make with him emote. On my pic this will be simple hand clap with other player. 

There may be many more emotes that you can use with other players like:
- Barbarian scream
- Dancing
- Laugh (of course barbarian laugh)
- Derision like whistling
- Drink beer and burp (i know in game files burp exist xd)
- This last is special because you can play in mini game with friend like rock, paper and scizzors. 
How it work?
One player must choose (rock, paper or scizzor emote) and above his head appear small dice. When second player want play, must stand close to first and next also choose one of emotes for playing.
When he do it, both dice signs disappear, and both players can saw which emotes was choose (also other players can see it). When one player won, he can laugh, and second will be sad.

It's small mini game and i think it will be super fun playing with others in such game. Also such emotes will be great thing for make cooperation in game much more funny.
Say what you think about this idea, and if you have some ideas for co-operative emotes in game, share it in the comment. 

Regards, Egzekutor