Questions

There are many quests to complete that can earn you gold. Some involve arena, fort, or soccer.

One of these quests.... are EXTREMELY hard and more over obnoxious. That is this soccer quest: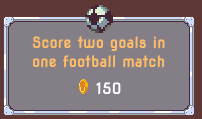 I know a LOT of people that despise this quest. And it's even worse for the people that are new to soccer. You are playing in a team with 4 players so getting 2/3 goals is difficult, not even counting the enemy team. I have had this taking up my slot for 5 days. Can't even finish it.
So can we either make a button that can skip a quest, or delete this specific quest?