Ideas

                    DAGGER                     
---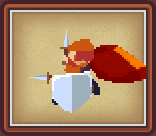 ---
Informations
It is the weakest weapon in the game, but the fastest weapon, is weaker and faster than the Claws, has a special attack different from all weapons.
---
1. Damage: 1 (the same damage of ice staff shoot);
2. Attack Speed: 0.2 (the fastest, the claws has 0.25);
3. Charge Speed: 0.6 (the same of all meele weapons);
4. Stamina Use per Charge: 0.5 (the same of all meele weapons);
5. Range: 30 (the same of claws's range).

---
Special Attack

The special attack of the Dagger consists of only rotating the weapon, equal to the special attack of the sword, but with some changes:
1. Rotation: 360º 3x (the sword has 4x 360º);

2. Duration: 0,75 Seconds (the sword has 1 second special duration);

3. Damage: 0,5 per each 180, but the player has two daggers, 360º : 2 = 180º (the Sword does 2 damage for each Special Attack);

4. Total Damage: 3 (the sword does 2);

5. Range of Special Attack: Short, less than Sword's special attack's range.
---
Leave your Comment and Vote