Ideas

(Disclaimer, I got this idea from Jashin)
So, I was thinking. What could make this game better?
To get some inspiration I scrolled through UserEcho and found a post made by Jashin about magic. It got me thinking, maybe instead of Magic we could have Buffs/Debuffs.
This may sound crazy but let me explain.
Damage is dealt through a variety of ways, such as throwing things, hitting people with things, and Shooting things.
What if we could do damage in a different way?
This idea would add in a variety of different Buffs/Debuffs into the game to make a more, disruptive element to the game.
For example: Burning Debuff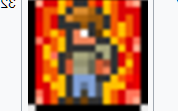 P.S: This could slide right in with Shaman maybe? Ideas :D